---
Related informations :
KB : 2538
Language : EN
Date : 2018-02-26
Category :
Tag : MICROPHONE , MICR , 4-MX
Related products :
The MIC knob can be tested without a DJ software.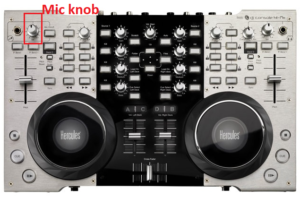 Connect a microphone to the 4-Mx MIC input
Connect speakers to the 4-Mx output 1-2
Set the Mic on on the 4-Mx
Switch on the microphone
Talk into the microphone. Now you should hear the voice in the speakers.
---